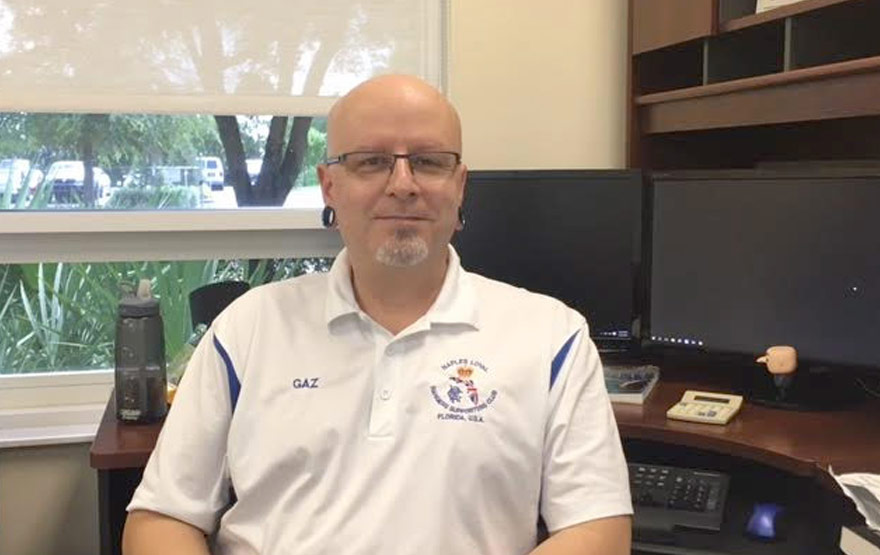 It was 1990 when Gary Harris (24 years old), first joined JWPS. He had been working in a café in Ft. Myers when he stumbled across the ad in the NDN for a pool technician. Anxious to work, with no pre-determined path, it sounded like a good idea, a stepping stone to who knows what might come next. Back then, interviews were conducted at the kitchen table of Lis & Jeff Wilson's house. Those were the days… Jeff and Gary immediately hit it off and he was brought into the fold, which at that time was less than 10 people. It should be noted that now JWPS has over 50 employees and of the original 10, only 3 remain – Jeff, Lis & Gary.
Gary learned the pool business from the bottom up personally trained by the man himself, Jeff Wilson. After 8 or so years as a pool cleaning technician, the opportunity came to move into the service department, where he's been ever since. Today he is the top dog, our quirky service manager, with the bald head and the funky earrings. Gary attributes the success of JWPS to steady and well managed growth. "We never let ourselves become overextended and quality employees have always been a priority". With that focus, "We are in a unique position to be pro-active and aggressive in problem solving as we look ahead to the future."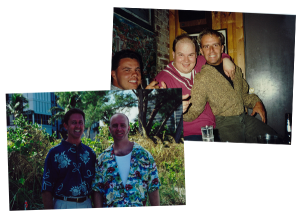 Twenty-six years later, this "stepping stone" of a job has become a career and Gary says the reason he is still here is 100% because of Jeff Wilson. For those of you who know Jeff, you know what that means. Kindly, he also says that his favorite part of the job is working with his co-workers. Who knew he was such a sweetheart?? When Gary isn't at the office, he enjoys spending time with his wife, Deb and family including their precious pup, Oliver. He enjoys the occasional game of golf and is a devoted fan of his beloved Glasgow Rangers Football Club.
Thank you Gary for 26 years and all that you have done for JWPS – We Love You!