The Naturals
Siblings put their outside skills to use in their parents' service company
Article By: Nate Traylor
PhotoCredit: Penny Taylor Photography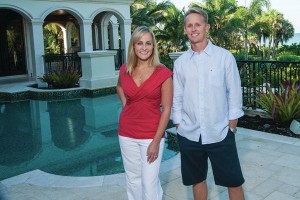 Growing up in a house full of pool chemicals was perfectly normal for Casey and Emily Wilson.
Before their parents, Jeff and Lis Wilson, opened a 6,000-square-foot facility in Naples, Fla., they operated their pool service business out of their home.
So began a lifelong love of the pool industry. Today, Casey, 30, and Emily, 28, share ownership of Jeff Wilson Pool Service with their parents.
Jeff Wilson started his career in the industry in 1973 working for a local service company. "I was 17. I loved it. I was my own boss," Jeff says. In 1985, he struck out on his own. He had one part-time employee at the time.
Growing up in the business, Casey and Emily got to watch the business grow.
The company expanded at a rate of one route per year. With 37 employees, a fleet of 40 trucks and about 1,500 accounts — mostly residential — Jeff Wilson Pool Service is one of the largest in its market today.
Do Casey and Emily feel any pressure to keep the momentum going? Hardly. "If you keep doing the right thing, and treating people the right way, it will continue to grow the way it has," Casey says.
Taking the reins of their parents' pool-care operation wasn't always the plan. Casey worked as an estimator and project manager for a general contractor after graduating with a bachelor's in building construction from the University of Florida's Rinker School. Emily graduated from Florida Gulf Coast University, having studied resort hospitality management, and worked for a country club for a year or so. They both saw greater opportunities working for the family business.
For Casey, it was an opportunity to expand the company's scope of services. In 2007, he launched KC Wilson Construction, an affiliate business specializing in pool, patio and exterior home renovation. Casey is licensed to do both pool and general contracting. (Florida law prohibits general contractors from doing pool-related projects and vice versa, requiring separate contractors' licenses for both lines of work.) "This was a niche market we got into and it's been very good," Casey says.
Likewise, Emily, who saw few growth opportunities at her country club job, is applying her background in hospitality to raise the level of customer service. "That was the thing that was stressed most in college. You have to know your customers and club members. They are the most important," Emily says. "So when I came into the business, that is what I had been trained to do."
Today, Casey and Emily serve as general manager and office manager, respectively. While their parents are still involved in the company, "they are operating the business," Jeff says. "They'll ask questions when questions need to be asked, otherwise everything is properly taken care of."
Though Mom jokes, "I was a little worried of Emily taking over the bookkeeping, since she's never balanced her own checkbook before. But she told me, 'Mom, I can handle it.' And she has. She's done an excellent job."
They'll eventually own the entire business. Succession planning is proving to be more complicated than they thought. "It's a little intimidating," Lis admits. "It's not anything we're familiar with. We thought it would come just kind of naturally." They're navigating the legal ramifications and consulting with financial advisors. It all might be more daunting than it's worth if they didn't have a solid commitment from their son and daughter.
"We're really lucky to have Casey and Emily," Lis says. "I think they're in it for the long haul."
Traylor, Nate (2013, November 13). The Naturals. Retrieved November 20, 2013, from http://www.poolspanews.com/business/the-naturals.aspx