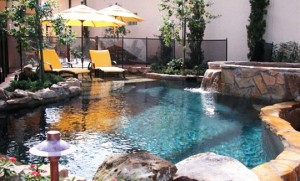 As we welcome back many of our customers from their homes up north, and the temperatures begin to cool down, pool heaters are starting to be used again.  Many of our clients have not used their pool heaters in Naples for several months, so there are a few things to keep in mind when starting up your pool heater again.
If you plan to use your pool heater, give us a call ahead of time, and we can schedule a visit to make sure that everything is working properly.
If you would like to have your pool heater inspected and working before you or your guests arrive, let us know, and we can get your pool heater inspected and set up prior to your arrival.
Check that your pool heater breakers are ON, if you have a gas heater, check with your gas provider to make sure that you have plenty of gas.
Keep in mind that electric heaters and heat pumps take longer to heat up than gas heaters.  If you have an electric heat pump you can expect to see a 1-2 degree increase in temperature per hour.
Your pool heater will not run if your pool pump is off.
If you are looking to maintain your pool's heated temperature overnight, you must keep your pool pump running 24 hours per day.  If the pump is turned off in the evening, you will lose the heat overnight and will find a chilly pool in the morning
If you are considering buying a pool heater or looking to replace an existing heater (gas or electric), we can help you decide which type of heating configuration will best suit your needs.
Please contact Jeff Wilson Pool Service for more information on your pool heating needs.