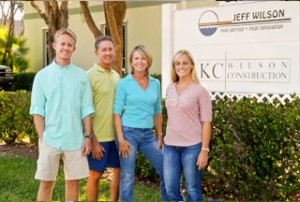 Jeff Wilson Pool Service, Inc. was opened in October 1985. Today we are celebrating 25 years in business. The swimming pool and spa industry have gone through tremendous changes in products, techniques, and technologies over the years but one thing that never changes is our commitment to provide the best service to you. Through continuing education, customer service training and advances in technology, we are able to provide the best service in the area. Our motto is "good business is built on great service" and that is our personal pledge to each and every customer.
For twenty-five years, Jeff Wilson Pool Service, Inc. has worked hard to build customer satisfaction and trust through our honest business practices. We have established ourselves as the local leader within the swimming pool and spa industry. Our consistent growth throughout the years is a true testament to our business. We strive to provide a service that exceeds every customer's expectations.

Quality, Dependability, and Honesty are the three virtues that Jeff Wilson Pool Service, Inc. was founded on. We are proud that after 25 years, we still hold our company's virtues as highly today, as we did when our doors first opened. We are a family-owned and operated business that has grown to include a fleet of thirty-five vehicles and over forty employees, Jeff Wilson Pool Service, Inc. is capable of providing exceptional service – whatever your needs may be.
As a full service Naples pool company we offer a wide array of services that are sure to meet any of your needs. We not only clean pools, we also offer repairs and renovation. Here is a list of the services that we can provide:
Pool Maintenance: We have over 1400 pool service accounts, and we take pride in our high level of customer service and satisfaction. To view our pool cleaning and maintenance plans, please Click Here. Here you are sure to find a service plan that will meet your needs, and if not, we can customize one for you.
Pool Equipment Repairs and Sales: Our service department is available to repair equipment or to install new pumps, filters, heaters, etc.! In addition, our staff is equipped to perform:
Leak detection and repair
Gas heater diagnostics and repair
Residential Pool Renovations: Jeff Wilson Pool Service, Inc. specializes in pool and spa renovation work of all types. This includes:
New aggregate finishes
New tile/coping
Complete decking replacement… and more!
Commercial Pool Renovations and Upgrades: Jeff Wilson Pool Service, Inc. specializes in renovations of commercial pools including mandatory upgrades of pool equipment to comply with new State laws.
Complete Backyard Renovations: We hold both a State Certified Pool Contractor license as well as a General Contractor license.
Please call us today to experience the difference Jeff Wilson Pool Service, Inc. can make when it comes to all of your maintenance, repair and renovation needs!

5365 Jaeger Road, Naples, FL 34109
Phone: 239-566-7733
Fax: 239-566-9910