A MESSAGE TO ALL OUR VALUED CUSTOMERS - POST IRMA

We are still without phones or internet at the office - we are slowly able to access email via an ipad and our cell phones. Please know that EVERYONE will be receiving service this week by their regular technician on their regular day. During these first couple of weeks post Irma, we will be removing large debris, adding chemicals and assuming power is back on, we will be able to further clean the pool. If you are able to remove large debris yourself, great - if not, we will be there to help in due time. If you have power, by all means, turn on your pool pump so that once we add our chemicals they will circulate and start clearing up the pool. Please feel free to stop by our office or email Greg Beall our General Manager directly at Greg@jwpsinc.com or Colby Rieger our Office Manager at Colby@jwpsinc.com

We appreciate your understanding and patience during this difficult time.
Top 5 Things to Consider when Choosing a Pool Service Company
1. EXPERIENCE
As with most anything – Experience is Everything! Not only is it important to have capable technicians out in the field, but a successful business requires experienced management behind the scenes as well. At the end of the day, you need a company that you can depend on.
Jeff Wilson Pool Service is proud to be celebrating 25 years in the pool service industry in Southwest Florida. Our strong and loyal customer base has helped us grow from a one man, one truck operation to a thriving business of over 40 employees with a fleet of 35 vehicles on the road. This longevity and growth within the industry is evidence to our experience and our exceptional service.
Testimonials from trusted neighbors and friends often play a key role in selecting a pool service. For a business, reputation and customer referrals are the building blocks to success.
With over 1400 pool maintenance accounts in Collier County, Jeff Wilson Pool Service has built a solid business with a solid reputation. If you would like to see some examples of our work, just CLICK HERE. We appreciate that our customer's testimonials are one of our many assets. Jeff Wilson Pool Service was also recognized by the Naples Daily News as a 2010 Southwest Florida Choice Award Winner.
3. RELATIONSHIP
Pool Maintenance in Southwest Florida is a weekly task. The company that services your pool will be visiting your home every week to monitor chemicals, vacuum your pool, and to maintain your equipment. Whether you are a full time or seasonal resident, you will want to choose a company that you can trust and that you feel comfortable with.
Jeff Wilson Pool Service has the highest quality, most well-trained staff in the business. Family owned and operated for 25 years, we know you will feel comfortable welcoming us into your home.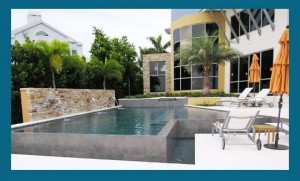 4. REPAIRS
It is important to consider the inevitable repair in addition to your ongoing pool maintenance. As with any investment it is imperative to maintain and solve problems as quickly and as efficiently as possible.
Jeff Wilson Pool Service has an in-house repair staff to troubleshoot and solve all your pool problems. From leak detection and repair to pump, motor, heater and salt system repairs – we can handle it from start to finish.
5. PRICE
Pool service companies are plentiful in Southwest Florida, and typically, you get what you pay for! Price very often sets apart the competition, and perhaps for good reason.
Jeff Wilson Pool Service offers several different maintenance plans to choose from to suit your needs and your budget. The most common variable in pricing is the frequency with which you desire vacuuming of your pool. A free assessment of your property and equipment is all it takes to get a quote from Jeff Wilson Pool Service. CLICK HERE or Call us today to set up your consultation: 239-566-7733.